 Time continues to fly past so quickly!
The Christmas promotion campaign for the book has now been launched. It comprises a couple of eye-catching Christmas-themed posters and a special competition for those buying the book locally in Nuneaton. The four great prizes in the competition are:
1. £25 gift voucher for Joco Gifts
2. £25 gift voucher for the Zen of Essence salon
3. Two guaranteed best seats for the world premiere of the folk opera The Undoing of Polly Button at The Abbey Theatre, Pool Bank Street on Saturday 11 April 2020.
4. A bespoke personalised Polly Button Murder Trail Guided Walk for up to 4 people led by the author Steve Moore and at a time/date of mutual convenience.
Prize draw entry forms will be given out at the time of purchase of the book(s) at the two locations specified.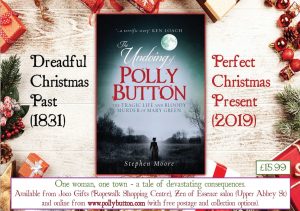 The year's talks and presentations came to a close with a short presentation on the Polly Button story at The Ragged Bear music festival in Nuneaton on Friday 25 October. I was followed on stage by Daisybell, who's set included 3 songs from their forthcoming folk opera based on the book. That appearance brought the total number of talks/presentations to 17. Not a bad tally at all! And the interest has been sustained and sincere wherever I have gone. I already have several events booked in for 2020, including one booked just last week.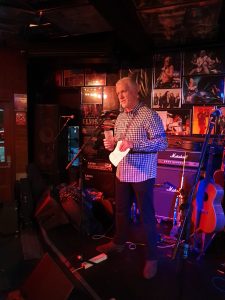 There are now numerous stockists of the book: Joco Gifts (Ropewalk Centre, Nuneaton), Zen of Essence (Upper Abbey Street, Nuneaton), Nuneaton Museum and Art Gallery, Warwickshire County Record Office, Kenilworth Books, and the following Waterstones branches: Nuneaton (where it continues to be at or near the top of the best-seller list), Coventry, Solihull, Leamington Spa and Stratford-upon-Avon. Online sales have also continued to do well (via www.pollybutton.com ).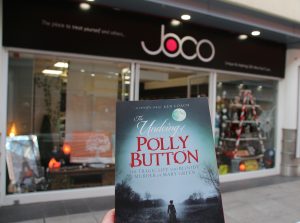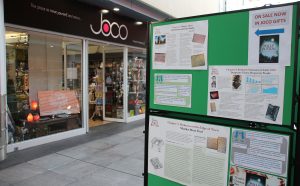 The guided murder trail walks also came to a close in October, with visitors from Vermont, USA being treated to a full guided tour of the key sites.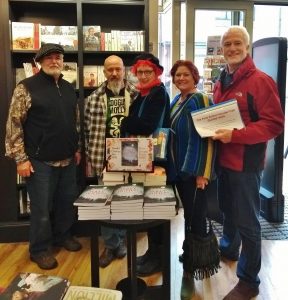 Discussions and planning for The Undoing of Polly Button folk opera are underway. The date and place for the world premiere has been fixed: Saturday 11 April 2020 at The Abbey Theatre, Pool Bank Street, Nuneaton. The theatre is only a short walk away from where Polly Button lived. To support that event, there will be a fundraising afternoon at the theatre on Sunday 16th February. Elements currently under consideration include:
• A musical hootenanny (showcase/jam session sort of thing) for Polly Button
• A major photographic heritage exhibition by Nuneaton Memories
• A 'Put the kettle on for Polly' tea and cakes offering
• A big 'Gathering of Descendants of Polly Button'
• A short, guided walk from the theatre to the location of Polly Button's house, where she was attacked and where she died.
• Additional fundraising activities on site.
And finally, for this blog post, confirmation that there will be a guided walk (again from the theatre) on the anniversary of her murder (18 February) next year that will take place at the approximate time that the appalling and murderous events took place.
Full details and ticketing arrangements will follow in due course.