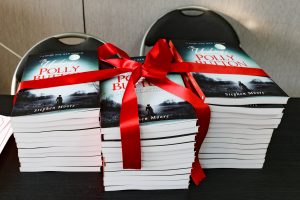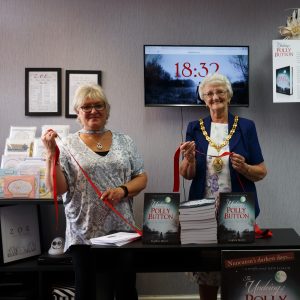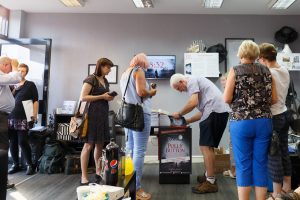 August 2019
What a hectic and amazing few weeks! The run-in to the launch on 2nd August at Zen of Essence hairdressing and beauty salon was as you'd expect really – lots to do and organise at pace. The weather looked very kindly on the launch, so much so that I needed sunglasses when I did my introduction and background chat in front of the salon. Project supporters and invited guests were treated to some of Tina's delicious cocktail sausage rolls and prosecco to get proceedings off to a good start. Guests were given a guided tour of the premises/site (where Polly Button had lived) and an explanation of the events that took place on 18 February 1832. Daisybell performed a couple of songs from the forthcoming folk opera based on the book – just fantastic songs, so well sung and with an excellent PA system giving very good sound quality.
Virtually the whole of the launch weekend was taken up processing the dozens of orders for the book – packing the books and accompanying leaflets, bookmarks etc., transferring address information into a format for Royal Mail Click and Drop labelling, producing the labels, completing the packaging, and taking all the packets to the RM Delivery Office for distribution. We also thought it would be nice if we could deliver as many books locally as we could on that weekend. So, we split the orders into two routes and spent the Sunday morning 'doing the rounds' and dropping off people's orders. Thanks to Tina & Rheanna-Fay for their help doing that. The serious printer problem that arose around this time just added to the demands – Lexmark helpdesk failed to solve the issue after a couple of hours of trying. My son Tayo came to the rescue – boy, does he have a profound understanding of IT systems!
Since launch we have been battling to keep up with orders that have been coming in. I have to accommodate this alongside my day job by the way – so I have very long days at the moment! It was really helpful to have Zoe (of Zen of Essence) offer to help out by acting as a sales point for the book rather than just a collection point. We have all been very pleasantly surprised by the steady flow of people going to Zen of Essence to buy the book. The fact that every copy bought from the salon comes with a unique, signed commemorative certificate looks like it provides and attraction/incentive for many. And then just the other day. I was messaged by Jo Williams of Joco Gifts in the Ropewalk Centre who also offered to act as a sales point for the book – and early indications are that people are also snapping up copies of the book from there too.
I'm still trying to get the book known about more widely. For example, I have contacted several national newspapers and magazines with a press release about the tremendous response since the launch of the book. One newspaper has also had a review copy, but I haven't heard if they'll be featuring or reviewing the book – they have about 250-300 books a week at this time of year to select just a handful for inclusion in their newspaper's review section!
Whilst on a short holiday in Herefordshire recently, I took the opportunity to drop a copy of the book and an information pack into the office of the Hay Festival (in Hay-on-Wye), the world's largest literary festival. It would be great if they chose to feature the book next year. If they did, I'd really like to arrange a Gathering of Descendants #3 for the talk I would give – now wouldn't that be something special.
The next few weeks are the busiest period of promotional events I could have imagined. The events range from talks and presentations, to market stalls, special collaborative arts events, theatre foyer talks and a guided murder trail walk. Hope to see many project supporters at one or more of these events.