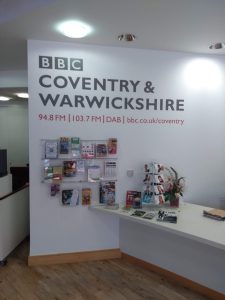 It's been quite an eventful and busy couple of weeks. The production of marketing materials for the project continues apace – with various posters, leaflets and display panels either designed or in the production line. I just hope they can be done in time so that the run-in to the book launch on 2 August isn't too stressful.
I've been really pleased by the reaction and response from local clubs, shops and takeaways. I have called on about 30 businesses and organisations in total, concentrating on Nuneaton town centre, Abbey Green and Weddington/St Nicolas. All but one of them were interested in the project (especially the fact that local charities and good causes stood to benefit from the book) and agreed to take posters and/or leaflets publicising it. I had two posters – one for the book itself and the other for a special Heritage Open Day weekend on 14 & 15 September – which are linked to this blog. Some excellent graphic design input I'm sure you'll agree.
I also managed to fit in a Polly Button Murder Trail guided walk, which took place on Sunday 14 July,  the same day as the Nuneaton Food Festival thereby allowing participants to work (or should that be walk?) up an appetite before enjoying the 40 or so food stalls – great planning, eh? I'll do a separate post for that event, as Tina (the stand-in photographer – get well soon Alison James) took some good pictures.
I was also asked by BBC Coventry and Warwickshire radio if I would be available to do a studio-based interview with Vic Minett. It was my first live interview in a radio station, but it seemed to go off well enough. I'll be posting the link to the broadcast programme separately and pointing out at what time the interview started. It lasted about 10 minutes or so and I think I managed to cover the main elements of the story.
And finally, Daisybell performed three songs from the forthcoming folk opera The Undoing of Polly Button. This was the first airing of the songs in public – they went down a storm with those on the guided walk. Indeed, the video that was posted of one song (Dear Mr Coventry Herald) has now been viewed more than 3,000 times in just a couple of days. That really augurs well for the future of their project to bring the story of Polly Button to a new audience using the medium of music.